At BF Adventure we are committed to empowering children and young people to learn differently in the outdoors.
We work with ~ 4,000 young people a year, of whom 500 face multiple disadvantages including rurality and poverty. Over 200 receive specialist long term support from the charity to face learning and/or physical disabilities, behavioural challenges, mental ill health and other issues associated with Adverse Childhood Experiences.
We support children and young people on a Journey of Change through a range of adaptable programmes that are designed to meet identified needs.  We use our outdoor environment, 60 acres of heathland, woodland and flooded quarries to enable them to identify their own social, emotional and physical barriers and to choose their own challenges which will support them to overcome these.
Activities range from quarrysteering, to kayaking, canoeing, archery, climbing, zip-wiring, den-building and more. We have a team of highly skilled instructors guiding our young people and our programmes are Learning Outside the Classroom (LOTC) accredited.
To learn more about our support for young people, see our Social Impact Report.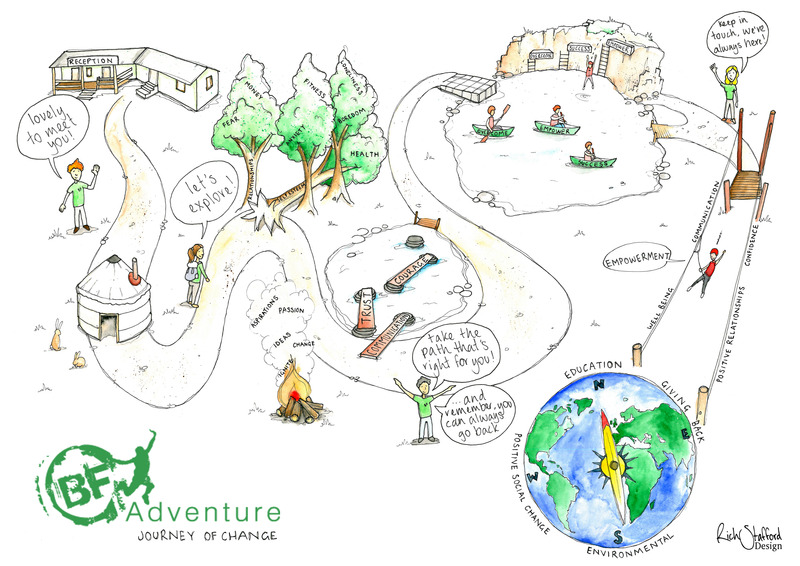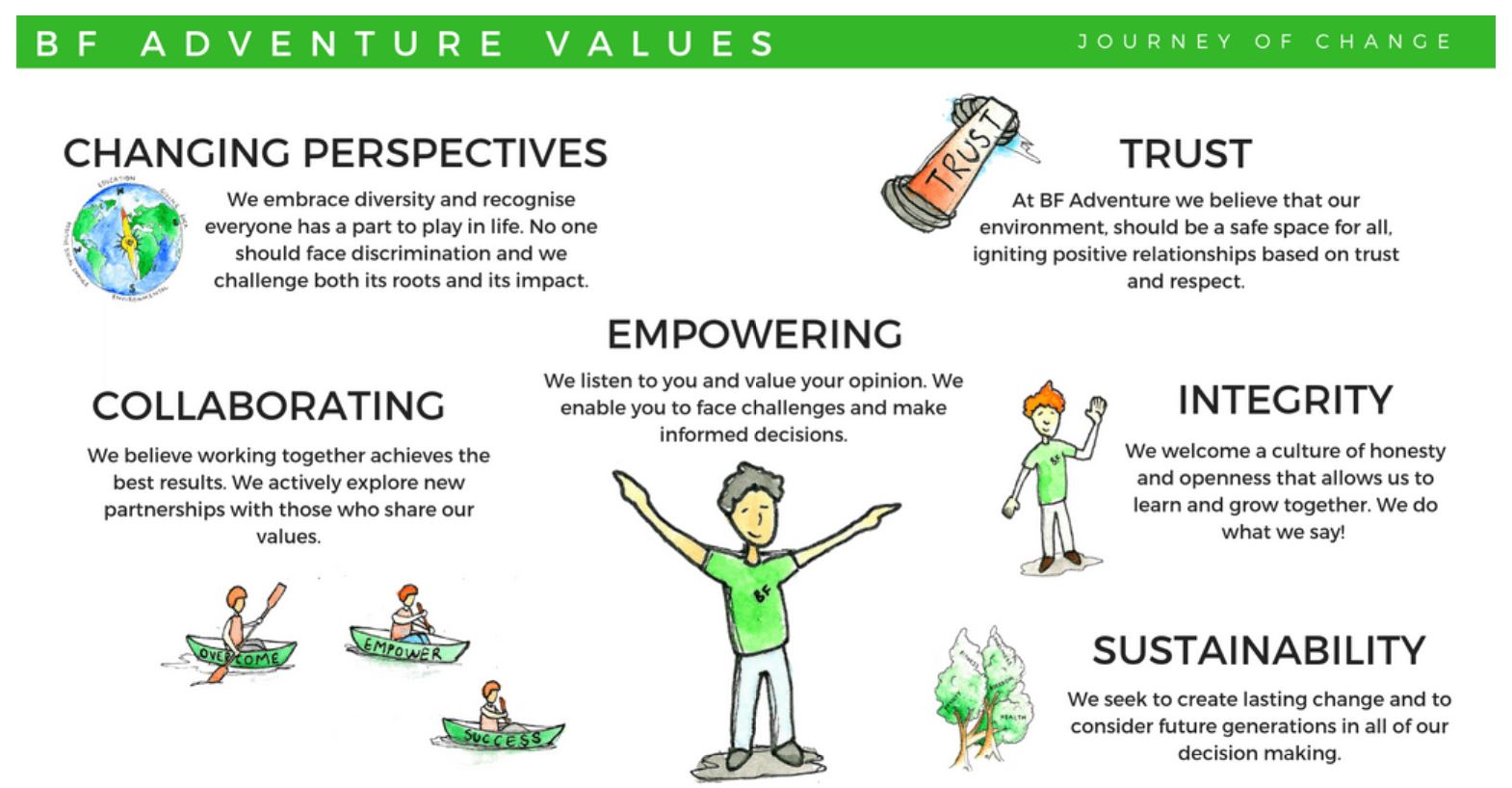 Professionals, families and young people often ask us what it is that we actually do and why it works.  We ensure our team are trained to develop their skills in the following: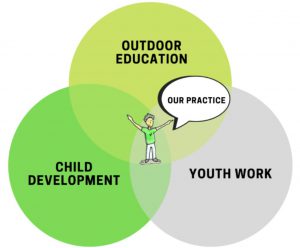 Trauma Informed Child Development
"…the quality of the relationships between children and the adults in their lives, along with the children's levels of emotional wellbeing, will largely determine the outcomes children realise.' – Children's Parliament, 'It's all about relationships"
Studies like this show that the main difference in promoting positive outcomes for young people who experience ACE is building key relationships with trusted adults. At BF Adventure we delegate a key worker to develop a relationship with each child. We ensure that our children have safe boundaries, we listen, both to their spoken needs and those which manifest through their behaviours.  We engage with them through positive shared experiences and use a PLACE approach, using attunement and co-regulation to help them feel safe, modelling self-regulation and supporting them to develop this skill themselves. This approach reduces the impact of toxic stress.
Outdoor education and green spaces
"People who use the natural environment for physical activity at least once per week have about half the risk of poor mental health compared with those who do not do so; and each extra weekly use of the natural environment for physical activity reduces the risk of poor mental health by a further 6%." – Mitchell, 2013
A growing number of studies have linked the benefits of the outdoors and 'green spaces' to improved health and well-being.  It is believed that contact with nature plays a crucial and irreplaceable role in brain development. Simply walking through a natural environment can reduce blood pressure as muscles are stretched and released, cortisol levels return to normal and stress levels are reduced.  With so many people leading sedentary lifestyles we know that all forms of exercise are good, raising fitness, releasing endorphins and promoting a sense of calm. At BF Adventure we encourage children and young people to appreciate the natural environment around them, from sensory journeys and pond dipping to wild swimming, quarrysteering and the zip wire.  We enable children and young people to immerse themselves in the outdoors.
Youth Work
Our instructors are committed to using a youth work approach within their delivery, building professional, trusting relationships with young people to enable them to explore their values, issues and aspirations and support them to grow, learn and develop to their full potential.  Youth work is a distinct informal educative approach, focused on the strengths of young people, and rooted in the young person's interests.  At BF Adventure we encourage young people to develop new interests by trying new things whilst developing their sense of self and their understanding of others.  This in turn helps them to recognise, value and influence their place in society. 
Our Skills for Life Programmes
Learn Differently Alternative education provision for 5-16 year olds | Bespoke programmes for individual needs.
"His attendance at BF Adventure has had a significant effect on his ability to achieve."                                                                                                                                                           More information.
Head Out Early Intervention Programme for 12-16 year olds with mental health issues | Group activity days combining outdoor activities with workshops.                                           "It has been amazing, met some awesome young people and staff members and really boosted my self-confidence and esteem, Thank you" 
More information.
TOTEM Group activity programme for 11-16 year olds who identify as LGBTQ+ | Activity days combining outdoor activities with workshops.                                                             "This programme made me want to go back to school, it really helped me!"                                                                                                                                                                                       More information.
Access to Adventure Fully inclusive activities for children, adults and families with physical disabilities | 1:1 or group activity sessions.                                                                             "I loved seeing my daughter smile and grow in confidence as the day progressed. Staff were great :)"                                                                                                                                More information.
Active Minds Group provision aimed at 17-25 year olds with mental health issues | Two half day sessions.
"I am 100% glad that I chose to do this course. I had a few personal issues but I feel like I have progressed a lot."                                                                                                               More information.
To get in touch, call 01326 340912 and ask to speak to Jeni Stephens or Paul Cox. To see an example of our referral form, click here.
We take measuring our impact very seriously. You can see our latest Social Impact Report for more information. We are proud to have received very positive feedback from the young people we support, as well as parents and professionals. To make sure we're on the right track, we gain quantitative insights into the progress of those we support: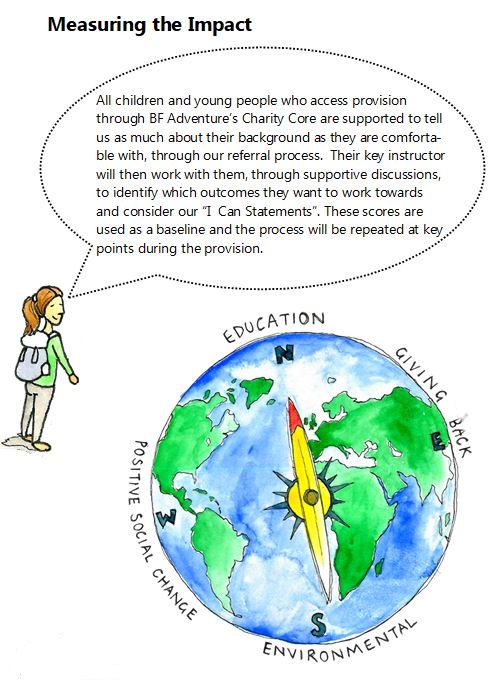 To learn more about how we measure progress, check out our discussions with young people throughout their programme.
What people say about our services...
BF Adventure is able to offer a service that no other agency is able to offer! It understands the difficulties surrounding the inclusion of children with special needs; it gives the parent a sense of re-assurance that their child will not feel 'different' during their stay. This in turn promotes a sense of 'good feeling' with the child & parent.
My son who is severely autistic, absolutely loves having days at BF Adventure. He has had an absolute ball – especially when you put him in a wetsuit and chuck him in the quarry water. He always comes back happy and will be looking toward to his next visit! Thank u so much guys!
For the first time in a very long time, S came home with the biggest smile on her face. I can't thank you enough… you made her believe in herself, not many people take the time to do that.
I have been informed that following a successful visit to Cornwall College last week BC will be starting a pre 16 course from Monday. Thank you so much for all your support with BC, the provision and support have really helped him to focus on something positive during an otherwise difficult time for him.
My son's behavior/understanding of the world around him gained much momentum; his self-esteem and confidence increased tenfold. Most importantly, he was able to do more independent tasks at home, ranging from personal hygiene to turning a page in a book and writing skills.
I was homeless before I came to BF Adventure. Everyone was really nice and friendly and they helped me to find somewhere to stay. Through the programme I have become much more confident and I have learnt how to deal with problems. After the course my instructor helped me to find a volunteer position with a local garage and I will soon start an apprenticeship with them.
I dropped out of college last year. Most days the police would come around my house and I had problems with alcohol and drugs. BF Adventure has given me something worth getting up for in the morning. I know now that I have so many possibilities in life if only I put my mind to it. I am going back to college in September to become a mechanic.
I'd just like to say a big thanks to BF Adventure and to everyone who works there. Coming there since day one…I loved it! I'm starting a new course studying outdoor adventure because of the inspiration at BF Adventure :)!