BF Adventure Charity
Our Charity
is committed to
 introducing all our clients to our 
outdoor environment. We are passionate about enabling people
 to identify their own barriers and choose their own challenges, which will support them to overcome these barriers, and  engage with us on their journey.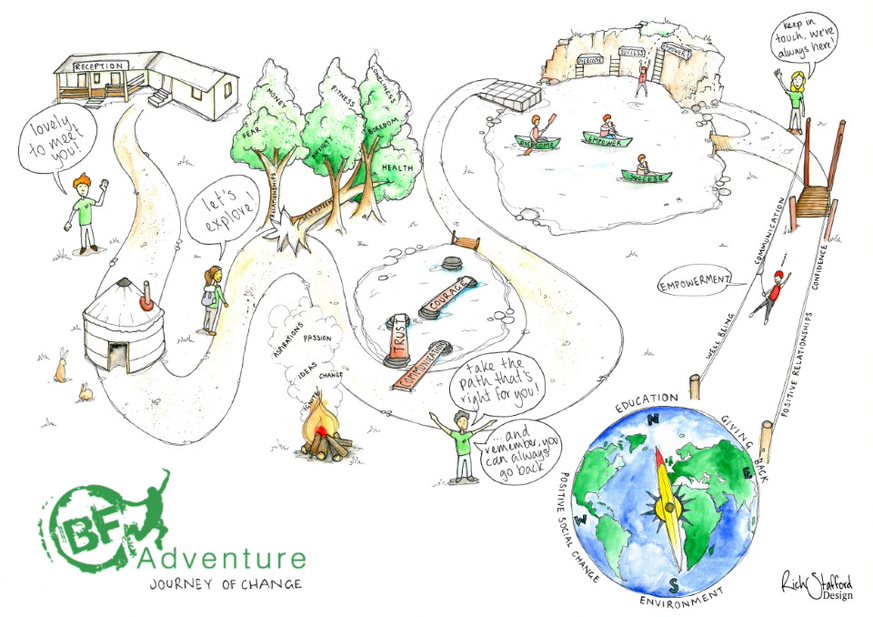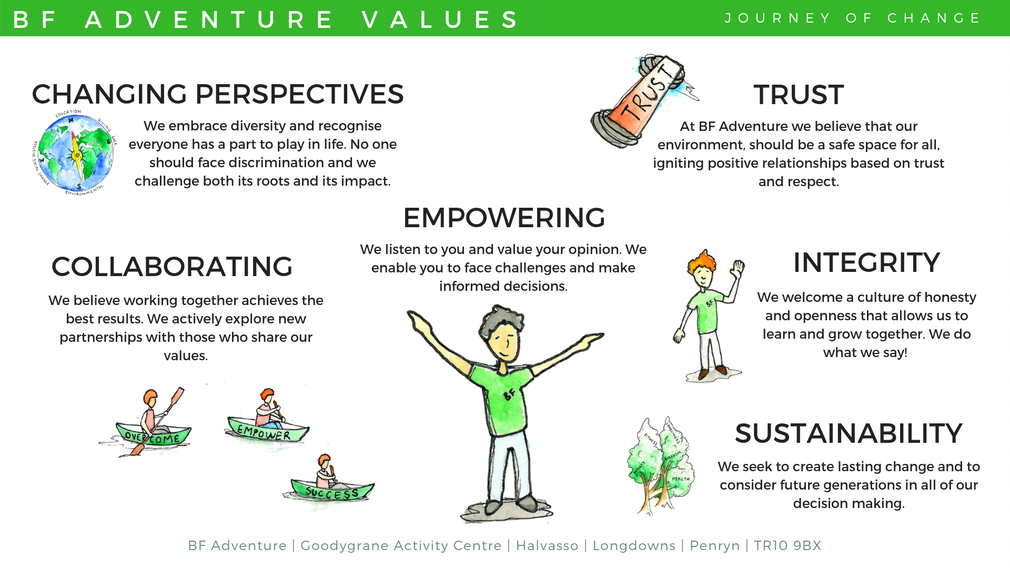 BF Adventure Core Programmes
Our Charity has a team of highly skilled instructors, which use a wide range of inclusive, adventurous activities, to support children and young people on a journey of change. We offer a range of different programmes that are designed to meet identified local needs.   
The young people with whom we work face disadvantages in life including learning and/or physical disabilities, behavioral challenges, mental ill health and other issues associated with Adverse Childhood Experiences.   
Matrix Accredited

The unique quality standard for organisations to assess and measure their advice and support services.

Inclusive

Where EVERYONE is welcome.

Learning Outside the Classroom accredited

The unique quality standard for organisations to assess and measure their advice and support services.
Information, Advice & Guidance

Interventions that count.

Ascentis Accredited Qualifications

Life lessons with REAL value.

Funding options available

Services can be accessed through funding, personal budgets, SEN provision and Pupil Premium.
Skills for Life
Our Charity supports children and young people to work towards improving a range of personal outcomes including:
Improved communication skills
Increased personal well-being
Improved confidence
Development of positive relationships
An overall sense of empowerment 

 
The charity also supports young people to make a difference in the wider world, through educating them about the environment and social change. Supporting them to give back to their community through social action, and through improving their educational aspirations.   
The charities 6+ provision is dedicated to providing children and young people with an alternative education provision. BF Adventure creates bespoke, co-produced, programmes built around individual need that utilises our 60+ acre site.
The charity uses a host of activities, which provide challenges and experiences that are key in building self-esteem, critical thinking and improving social and personal skills.
Learning differently helps young people to develop their capacity to change, and we have evidence that our approach demonstrates improved personal, social and educative outcomes. BF Adventures goal is to provide young people with support in developing resilience and effective coping strategies for dealing with the stress of life.
Are going through a period of difficult transition

Need a boost in confidence

Are experiencing difficulties in school
Struggle with peer relationships

Need support in developing coping strategies

Would benefit from a more supportive environment
TOTEM is a programme for LGBTQ+ young people aged 11 – 16.
The program is designed to support young people who may be experiencing difficulties around identity, bullying, relationships, accessing education, drug and alcohol use, isolation or ill mental health.
Over the 6 weeks of group sessions the young people take part in a combination of fun outdoor activities and workshops. The programme supports LGBTQ young people to develop their confidence, build friendships and to have the opportunity to feel listened to and empowered.
The first programme was a real success and we had great feedback from both young people and referrers.
One young person said: "each person involved in TOTEM have been good company… totally uplifting and enjoyable… it's given me a break from the stress of school… being guided through the activities and knowing that I have people to talk to…" 
A teacher told us that:
"since starting at TOTEM he had really 'calmed down' as though he felt didn't need to be as vociferous. They really did see a correlation with joining your project so it seems to already have had a positive effect!"
I learned that I am human and most things aren't impossible

I am more confident in myself and I'm not as frightened as before
As a mentor I found it invaluable as a means to reach out and gain understanding of the issues in their lives and it has allowed me to put procedures in place to help them
each person involved in TOTEM has been good company... totally uplifting and enjoyable... being guided through the activities and knowing that I have people to talk to...
BF Adventure has received funding for a Youth Mentor programme, through #IWILL Fund. Through this programme young people who are interested in developing their skills in activities, and supporting other young people, have the opportunity to become young mentors.
We have worked closely with our existing young volunteers to develop the programme, so that it provides the support and development opportunities which young people have identified themselves.
The programme is in its early stages but this term we have welcomed two youth mentors onto our team. They have been working alongside our instructors to support young people in their sessions on a weekly basis.
In the new year we will be expanding the programme, developing a youth participation project, supporting more young people onto the programme, and linking in with further training and employment opportunities.
Your Access to Adventure!
We run a range of programmes designed to promote engagement, education, development and inclusion. We often have funding available, and for ongoing sessions our services can be accessed via Personal Budgets and SEN provision.
Our Current funding options enable us to provide a range of services including:
Small Peer Groups

1:1 Session

Family Days

Supported access to Holiday Activity Days
Head Out is a funded early intervention programme for those experiencing difficulties with their mental health. Mental health is crucial, and increasingly professional services are unable to cope with demand for services.
As with all our core programmes, young people will be able to outline their own aims and goals for the programme. Differences they would like to make and how they can go about achieving this with our support.
We offer 1:1 support alongside the programme, and can attend meetings with parents, schools and other professionals. To support with positive change, re-engagement and access to other services.
This programme has been an outstanding success, but unfortunately it has run out of funding. We are currently seeking further funding opportunities.
Small group mental health support

Sessions combine outdoor activities with workshops

Develop resilience, build social skills and confidence

1:1 support and meeting attendance with parents and professionals
We run regular sessions for adults with disabilities, funded through Personal Budgets. These offer an opportunity to socialise, as well as experiencing a range of activities on our site.
Sensory and adventurous activities

Opportunity to Socialise

Increase confidence and engagement

Available through personal budgets
What people say about our services...
BF Adventure is able to offer a service that no other agency is able to offer! It understands the difficulties surrounding the inclusion of children with special needs; it gives the parent a sense of re-assurance that their child will not feel 'different' during their stay. This in turn promotes a sense of 'good feeling' with the child & parent.
My son who is severely autistic, absolutely loves having days at BF Adventure. He has had an absolute ball – especially when you put him in a wetsuit and chuck him in the quarry water. He always comes back happy and will be looking toward to his next visit! Thank u so much guys!
For the first time in a very long time, S came home with the biggest smile on her face. I can't thank you enough… you made her believe in herself, not many people take the time to do that.
I have been informed that following a successful visit to Cornwall College last week BC will be starting a pre 16 course from Monday. Thank you so much for all your support with BC, the provision and support have really helped him to focus on something positive during an otherwise difficult time for him.
My son's behavior/understanding of the world around him gained much momentum; his self-esteem and confidence increased tenfold. Most importantly, he was able to do more independent tasks at home, ranging from personal hygiene to turning a page in a book and writing skills.
I was homeless before I came to BF Adventure. Everyone was really nice and friendly and they helped me to find somewhere to stay. Through the programme I have become much more confident and I have learnt how to deal with problems. After the course my instructor helped me to find a volunteer position with a local garage and I will soon start an apprenticeship with them.
I dropped out of college last year. Most days the police would come around my house and I had problems with alcohol and drugs. BF Adventure has given me something worth getting up for in the morning. I know now that I have so many possibilities in life if only I put my mind to it. I am going back to college in September to become a mechanic.
I'd just like to say a big thanks to BF Adventure and to everyone who works there. Coming there since day one…I loved it! I'm starting a new course studying outdoor adventure because of the inspiration at BF Adventure :)!