We've launched Via Ferrata Cornwall, the place to come for an epic adrenaline adventure that'll push your limits! Get ready to conquer your fears, have fun and do something unique. All profits will support our vital charity work with disadvantaged children and young people. The Via Ferrata opens on 26th July and is suitable for adventuresome 8 year olds through to daring thrill-seekers!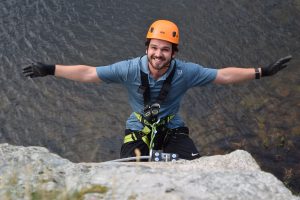 What is a Via Ferrata?
Originating in the Alps during World War I to enable troops to cross mountains, a Via Ferrata is a climbing route like no other. Metal steps, ladders, suspension bridges and zip wires make it one of the most adrenaline-filled climbing activities worldwide. Sharing our stunning 60 acre site near Penryn, Via Ferrata Cornwall will give you the ultimate high challenge as you journey across historic granite quarries in an unforgettable adventure.
With training provided, you'll develop your climbing skills as you traverse across quarry walls over 20m high, conquer your fears on the High Wire Bridge where you'll cross the quarry on a 70m long single strand of wire and leap from the clifftops on one of the most scenic zip-lines in Cornwall.
Bookings can now be made through the website for 26th July onwards!
Our crowdfund campaign rewards adrenaline-seekers and corporates
Via Ferrata Cornwall already has funding ring-fenced to complete the routes and the build is in full swing! The project is supported by Resonance Limited with a Social investment Tax Relief (SITR) Loan Funding and a Business Investment for Growth Productivity grant.
However, we want to share this incredible journey with supporters! So, we're offering crowdfunders the chance to join our exclusive founders club, gaining early access to the course, discounted entry, membership packages for locals, family/sole use bubble sessions and the chance to help the company to develop the experience as it grows. For corporates, sponsorship opportunities include unique Via Ferrata team-building experiences and PR.
The crowdfund is now live and can be found here!
Share our crowdfund for the chance to WIN £100 VIA FERRATA VOUCHER!
All you have to do is go to our Facebook page and follow 2 simple steps.
We hope to have you join us!
If you have any questions, please feel free to email hello@viaferratacornwall.co.uk and we will be happy to help.