BF Adventure – Week 1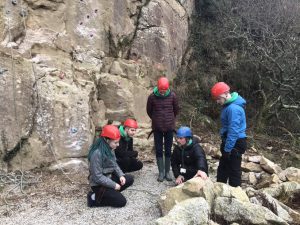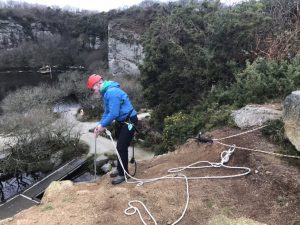 We began our first week of our apprenticeship feeling a little nervous, but this lasted only a short while because of how welcoming the staff were. Making sure we felt part of the BF Adventure team from the start. The focus of the day was letting us get to know each other, and the BF Adventure site, which was done through a fun orienteering activity.  
On Tuesday we started learning the fundamental skills needed to climb, such as belaying and some basic rope work. We had a few goes climbing each, working together to clamber up some of BF Adventure's older and more recent rock faces. This helped us build trust with one another, and develop a relationship with our line manager, Paul.  
We spent the following day learning about some of the more behind the scenes work that goes into delivering a climbing session. This involved learning how to thoroughly check over and take good care of the climbing kit through checks called ASRs (Areas of Specific Responsibility).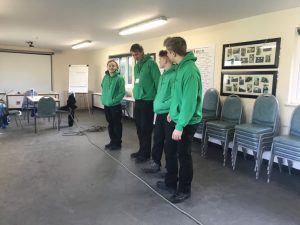 On Thursday we were introduced to soft skills, which taught us a lot about how we can give guests to BF Adventure the best experience. After doing several fun demonstrations in the morning, we went into the adventure quarry to see how the techniques are put into practice at BF Adventure. It was here that we learnt how instructors deliver the first two Adventure Quarry games and the many variations that can be used to get the most out the activities. After completing these we then split into two teams and planned our own versions of each. This helped us get used to delivering a session, as well as being creative, and practice ways to keep young people busy and making sure they have fun.  
Friday involved us going into more detail about climbing, which involved us learning how to how independently setup the climbs, check that the equipment is safe, and then pack it away correctly.  
We all think that the first week of being an apprentice at BF Adventure has been a great experience and we can't wait for what's to come in the next year! 
Harrison Clark, Jessica Campbell, Chyden Barns