We have had an excellent blog sent to us written by Jane Sandwood, a freelance writer and editor:
Easy Ways To Incorporate Physical Activity into Your Busy Work Day
It's common for many people in the UK to sit for over seven hours every day. If you have a desk job that requires you to sit in front of a computer all day, did you know that your health could suffer? Too much sitting can lead to illness, such as increasing your risk of diabetes, heart disease, and cancer. If you're working in a company office, instead of at your home, how are you supposed to get more exercise in your day? Luckily, there are easy ways to escape your desk without looking like you're slacking off. Here are some ideas to get you and your team members outside.
Book Outdoor Team building Activities
Team building activities are a must for you and your team to get to know each other. Book activities that will improve your team relationships such as those that teach you communication skills and help you break down barriers. It's a bonus if these activities are out of your comfort zone, such as abseiling or canoeing, so that you can increase your bond with your team and have some fun! By improving your relationships outside of the office, this will improve your productivity in the office. The bonus is that all the physical activity is really good for you.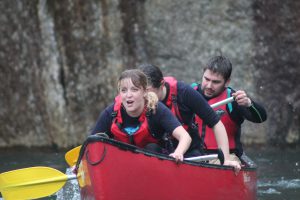 Have Energetic Brainstorming Sessions
Don't let your desk or the boardroom be your place for brainstorming creative ideas with your team. Sitting down can actually make you feel stifled. A Stanford study found that walking boosts creativity, and it doesn't matter if you're walking indoors or outside. It's the perfect excuse to get some exercise. So, take a walk outside the building, to the cafeteria, or to the café across the road for a healthy snack during lunch. These mini walks will help you boost your health and exercise at work, while the fresh air is sure to get your creative juices flowing.
Schedule Fitness Into The Workday
Going to the gym or working out regularly is a great way to relieve stress, and yet it's not easy to commit to a regular exercise plan if you're consumed by work. One of the main reasons why people go to the gym is to exercise off their stress. Reducing stress at work by having sport and fitness activities available on site can be hugely beneficial. They give people a valid excuse to leave their desks while also encouraging happier, calmer workers.
Try to set up lunch-time fitness classes or exercises that you can do at the office. Some competition in the form of sports that you play together after hours is also a great way to bond while achieving a goal. Maybe you could make the goals work-related. For instance, if you're playing a basketball game, whoever wins the game gets to work on an interesting charity project at the office. It's a great way to encourage healthy competition and boost motivation, while increasing everyone's fitness.
Maintaining physical activity at the office is important to stay healthy. By thinking up creative ideas for getting your team outside, such as team building activities, playing sports, and finding ways to incorporate more physical activity during your day, you'll increase your health in practical, easy ways.