BF Adventure has been awarded the RHS School Gardening Award Level 3!
The garden at BF Adventure is ideally designed for young people to engage as part of their multi learning experience. Young people use the green space as an individual sensory environment, investigate how insects play their part and love tasting the final produce.
The garden started back in 2010 linking accreditation to outside learning. Since then it was left and went wild. Recently an inspirational young person reintroduced staff to the magic of gardening. We currently have big plans for 2019.
With the vision of creating small gardening 'pockets' throughout BF Adventure to add colour, smell and taste for sensory trails. Getting as many young people as possible to take part when they are here.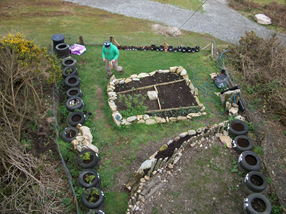 Our young people have been busy planting out all the new shrubs/plants into various tyres and beds. Developing the "upper" lawn area. Various veg, peas, runner beans, lettuce, blackcurrant and tomatoes have been planted in the tyres.
We already have a rustic but working recycle and compost scheme in place at BF Adventure but the young people and staff identified that we were not composting to our full potential. A large compost bin was donated to the charity and an improved new cycle of composting is now under way for Spring 2019.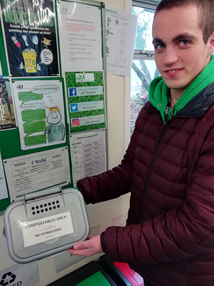 The learners have already identified that a valuable cycle can develop benefiting that sensory/veg garden through continual composting. They have also identified the changes in decay of the material from bin to soil. Currently the learners are engaged in spreading and digging suitably degraded compost in our raised beds and planters. They have also researched the benefits of natural energy cycles which fundamentally end up on our plates. They have finely tuned the sorting process in our kitchen.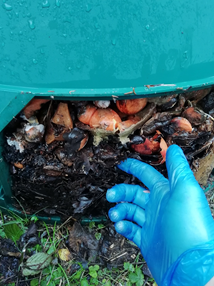 We are now working towards the RHS Schools Gardening Level 4 Award