Day 1

From the start it was quite a stressful day, as Hetty didn't want to go anywhere new, resulting in complete shutdown under a blanket and us being 20 minutes late, however once we got to you all that stress just melted away. Rachel "Step Hens" (as Hetty is now calling her) was so fab with everyone but especially Hetty and nothing phased her. From being told Hetty's name was Steven, to the brutal honesty of "I'm going to cheat by looking" to Hetty often not wanting to take part Rachel took it all in her stride and worked with what Hetty was giving her rather than against it or trying to get more from her. The other worker with the other family was also so fab with Hetty, engaging with her at her level and when Hetty felt comfortable enough too.

I have never seen Hetty engage so well with people she has just met, which has to be a testament to your workers and how fantastic they are at what they do. All of this meant we had a fab day, with Hetty not wanting to leave at the end and me having to physically drag her out of the water.

To see Hetty engaging with and supporting /encouraging her sister and more importantly her step sisters is also not something we see often as she genuinely struggles in her relationships with them. We are looking forward to tomorrow and our other session and really value being able to have met our worker already, it will really help Hetty feel more confident about coming. 
To see Hetty push her own limits and face her fears is amazing, to see her do it with a genuine smile on her face is so special to us as we rarely see it in her, for that we thank you all, but especially Rachel ❤️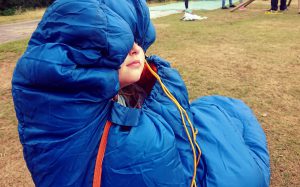 Day 2
Hetty was having a particularly bad day today and any type of demand on her was too much this morning, b
ut everyone made me feel so at ease – which isn't often the case for 
me when she's like this. 
The fact that she could be in a mummy sleeping bag, lay down and no-one even flinched over it was so
 special for me, as it felt OK for her to be her and for me to negotiate this however I felt best.
We don't often get that level of acceptance, which again is a testament to your staff, your organisation and your whole ethos.
The workers this morning were fab, as is everyone we've come into contact with and the children all had a great time being encouraged and supported to try new things.
This afternoon though Seb was fantastic with us all but especially Hetty. She had decided to join in, but this can often be very tricky to negotiate after such a bad morning as the mood lingers within her. 
He gauged her very quickly and worked with what she was giving, which originally was very little, but still got her to engage which in itself is impressive. 
His patience and encouragement with her when building a fire was first class and it absolutely showed as she allowed herself to really engage with him in close proximity (which also NEVER happens with new people) leading to my favourite photo of the day….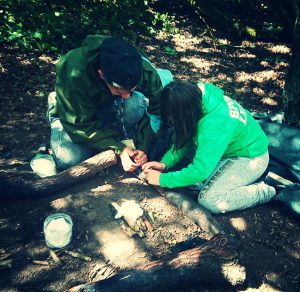 From this point on she was genuinely happy and proud of herself for getting a spark, starting a fire and later toasting marshmallows. 
I feel the need to again praise Step-Hens (Rachel) as she also really triedhard with Hetty today, even though she wasn't our worker. From coming over this morning when we told her it was a bad morning for us, to speaking to Hetty at lunch time and also for going along with Hetty's new name for her, the whole time she was amazing and Hetty has declared her, her favourite.
I was really unsure when I signed us up for the two days as it is so far out of Hetty's comfort zone and I genuinely felt that the other children would enjoy themselves and benefit from the experience and my time would be spent trying to contain Hetty and her behaviours, to an acceptable level, while her anxieties were pushed to her absolute limits. 
What we actually experienced was a welcoming, accepting, tolerant group of individuals who gave Hetty the freedom to be herself, to drop the mask and allow herself to have fun in a safe environment with her siblings while challenging some of those catastrophic anxieties that normally hold her back.
We have had an amazing 2 days and can't wait to book in for a return visit – archery is a must, as is more quarysteering for Dave's daughter who couldn't make it this time.
You have all built something very special in BF Adventure and we will be telling everyone we know about our time here so more can experience the amazing-ness we did.❤️