We have some fantastic new programmes that have recently started within our Charity Core. The first, TOTEM, has just completed its first programme and has been a great success. The second #IWiLL has also been a very successful and we look forward to welcoming more young people in the New Year.
TOTEM
This term we ran our first group on our TOTEM programme, for young people identifying as LGBTQ. Over the 6 weeks of group sessions, the young people took part in a combination of fun outdoor activities and workshops.
The programme supports LGBTQ young people to develop their confidence, build friendships and to have the opportunity to feel listened to and empowered. This first programme was a real success and we had great feedback from both young people and referrers.
One young person said: "each person involved in TOTEM has been good company… totally uplifting and enjoyable… it's given me a break from the stress of school… being guided through the activities and knowing that I have people to talk to…" 
A teacher told us that:
"since starting at TOTEM he had really 'calmed down' as though he felt he didn't need to be as vociferous. They really did see a correlation with joining your project, so I seems to already have had a positive effect!"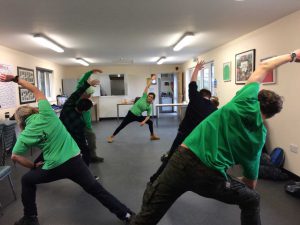 Dance workshop TOTEM
#IWILL
BF Adventure are very excited to have received funding, for a Youth Mentor programme through Big Lottery's #IWILL Fund. Through this programme young people who are interested in developing their skills in activities, and supporting other young people, have the opportunity to become young mentors.
We have worked closely with our existing young volunteers to develop the programme. It provides the support and development opportunities which young people have identified themselves.
The programme is in its early stages, but this term we have welcomed two youth mentors onto our team. They have been working alongside our instructors to support young people in their sessions on a weekly basis.
In the new year we will be looking to expand the programme, developing a youth participation project, supporting more young people onto the programme and linking in with further training and employment opportunities.
To find out more about our Charity and its programmes click this link, or contact jeni.stephens@bfadventure.org