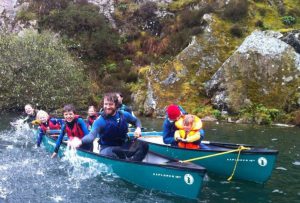 4th – 6th Oct | Food Included | Bring Your Family | Enter by 8th Sep
Looking for school residential in Cornwall? want to experience what it's like before committing?  We're offering a fantastic giveaway to teachers and their families: a free weekend trying the activities we offer school groups! Not only is this to celebrate the excellent work that teachers do, but we'd also love to use this time to get to know you more and learn how we can best meet your needs through our school residentials. You'll get to:
Experience the broad range of games and activities we offer school groups, from indoor/outdoor climbing to water sports and zip-lining.
Explore our beautiful site of water-filled quarries, heathland and woodland!
Enjoy relaxing evenings chatting over campfires and toasting marshmallows.
Bring your family! we'll cover 2 adults and 2 children (plus more at our standard rate).
Stay from 5pm on 4th October to 5pm on 6th October – whether for the whole weekend or just a day.
Interested? Enter our competition for a chance to win your space! 
To kick-off our mission of understanding your needs, all we ask for is a brief suggestion as to how we could link our outdoor activities with the curriculum…
Click here to enter our competition!
Got questions? call us on 01326 340912 or email enquiries@bfadventure.org.
Winners will be drawn at random on 9th September and contacted via email.
Still considering? Check out our feedback!
"I would like to thank you and your amazing staff. I cannot adequately express how impressed and overwhelmed by our wonderful trip we were! I find it so tricky to book whole class activity trips because we have a child with significant SEN needs and often many providers shy away from this. It was the first time our student was able to join in fully with adventurous activities with the whole class, and the abseiling in a wheelchair gave his classmates a unique perspective. It was truly an emotional day for the staff seeing this. The class really developed their sense of self and their resilience and well as their emotional sensitivity and sense of teamwork.
I am hoping to bring several of our classes to you next year as it was such a brilliant experience.
Many, many thanks again – your staff from Bernadette to Paul and everyone in between were absolutely fantastic!"
Ellie Watkins, Senior Teacher, Blackwater School