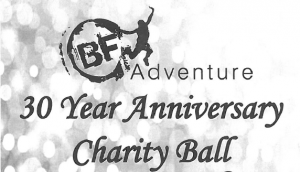 Help us celebrate 30 years of supporting young people through life's toughest challenges! Check out our upcoming events below and we hope to see you there!
Networking & Celebration | Friday 26th July: 2pm-4pm @ BF Adventure
Have an overview of our journey, explore opportunities to collaborate, have a site tour or socialise and enjoy some tea and cake! More information here.
BBQ, Awards & Games | Friday, 26 July: 5pm-8pm @ BF Adventure
Enjoy fun and games for the whole family, plus our young people's Awards Ceremony! More information here.
Charity Ball | Friday, 4 October 6:30pm – 00:00am @ The Falmouth Hotel
Enjoy a delicious three course meal and take part in our Auction of Promises, where we have a growing list of unique and exciting prizes. Then dance the night away while contributing to a fantastic cause! More information here.
All proceeds go towards our charitable aims and helping people like Emma, who did amazingly on our Head Out programme. Emma was referred to us from Child and adolescent mental health services (CAMHS) and has a diagnosis of Autistic Spectrum Disorder (ASD) and was really struggling with high levels of anxiety. The school was worried because she would often become overwhelmed and become very angry and run away, putting herself in danger. We worked closely with Emma, her mum and her school throughout the programme to support Emma to reduce her levels of anxiety. From the start of the programme it was clear that Emma loved the activities at BF Adventure. She showed a huge drive to push herself – from meeting new people in the group to climbing some really challenging routes to jumping into the freezing (it was March!) cold water during quarrysteering! The positive attitude she showed throughout the programme meant that she was a great influence on the rest of the group, encouraging and supporting them to take part and push themselves. Through the programme Emma demonstrated that she could find a positive outlet for her anxiety and within the group could support others to do the same. At the start of the programme she set herself aims of improving her confidence, having fun and being kind and to be more helpful and encouraging. She said at the end of the programme that she would tell herself "don't to be so nervous – you can do it!"