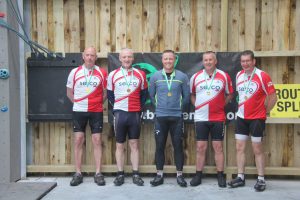 On Sunday 2nd June, BF Adventure's Coast to Coast Cycle Sportive ran for the third time. Despite the rainy weather, the event was a huge success, with 98 riders embracing challenging routes of 35, 60 and 100 miles around Cornwall's most beautiful coastlines. Funds raised will go to BF Adventure's core charitable aims of supporting children and young people with learning and/or physical disabilities, behavioural challenges, mental ill-health and other issues associated with Adverse Childhood Experiences. A special thank you goes to Serco for sponsoring the event and Avanti, who will match the sponsorship raised by their employees who took part in the event. 
We are hoping to reach £500 raised from Avanti staff – which will be doubled by Avanti. A team of Serco employees also joined the ride in support of our charity.
We are glad to have received a great deal of positive feedback from cyclists, having developed the routes based on feedback from previous years. John Heart, a participant in the 35 mile ride reports: "Every aspect of the organisation was first rate – all the staff were friendly and helpful. This is the best organised event I've been to and the refreshments were first class."
Fundraising events like these provide crucial funds to allow BF Adventure to continue its work supporting young people. Throughout last year, BF Adventure supported a wide range of Children in Care across its core programmes. Helping them on a journey of change, it uses its 60 acre outdoor site of heathland, woodland and flooded quarries to enable them to identify their own social, emotional and physical barriers and choose their own challenges which will support them to overcome these. Activities range from quarrysteering to kayaking, archery, climbing and den-building, to name a few. One recent breakthrough came from Steph. Steph was referred to us having been out of school for 8 months. She was experiencing high anxiety levels, would often self-harm, was refusing to attend school and had said that she would kill herself if she had to go back. She had experienced a lot of trauma with the death of a close friend and had a turbulent home life. She had suffered from alopecia through stress and was being educated at home through online classes. When she joined us, she said that her aim for the programme was to leave the house once a week to attend the sessions. Her attendance was good and she engaged well in the activities, often managing her anxiety around trying new things. She became more able to recognise her achievements and felt proud that she had used the zip wire as she initially felt very scared before finding that she loved it. She also made a friend who she maintained contact with. Following the group sessions we supported Steph to reflect on the impact the programme had for her and to look at how she could continue to progress. When we followed up 6 weeks later, she had returned to mainstream school and she is now nearly attending full time. Her hair has also began to grow back which has really helped with her confidence. Steph said of her time on the programme that she had enjoyed meeting new people and had learned that "I am more confident than I think I am".
We look forward to running future fundraising events which provide crucial income to continue helping more young people from all walks of life. Thank you once again to everyone who made this event a success.