The Apprenticeship Blogs – Week 6 
The sixth week of our apprenticeship started with us doing our second kayaking training session, during which we worked on different strokes and had some additional capsize practice. We then learnt some more about how the body can be used to better control the kayak such as the use of your hips and knees to lean the boat whilst manoeuvring to turn faster. This was followed in the afternoon with creating a detailed plan for the offsite trip the next day. 
On Tuesday we went offsite to the Fal river again, but this time we went in Kayaks. We started just outside the park in Truro, then paddled down a little farther past King Harry Ferry where we stopped for lunch and played a few games which helped us with the strokes that we were struggling with or couldn't quite understand.  After a little bit we continued paddling down to Looe beach where we were picked up and taken back to BF.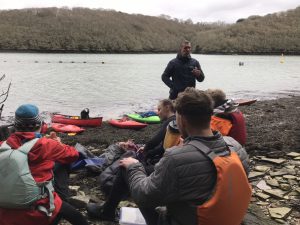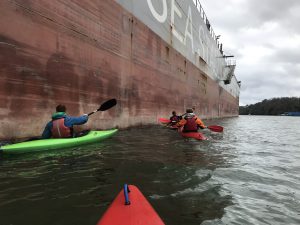 Wednesday we started the day off by putting the boats back and then we did a little bit of work on the computers before having lunch and then finishing the first aid course. We finished the CPR training, then we went onto bandages and practised how to dress wounds. Once we finished that we sent two people out of the room and then created a scenario before inviting the other people, who were the first aiders, back into the room and letting them figure out what to do and following what we had learnt.   
Thursday was spent doing archery training. This involved us apprentices working with a few other instructors to research a selection of key archery components such as body posture and drawing techniques.  This was followed by us writing up plans on how we would deliver these essential skills to the young people visiting the site in a fun and engaging way.  
Finally, Friday we continued our climbing training and worked some more on our group management as well as practising what to do in different scenarios such as if someone got their foot stuck or what to do if someone didn't want to come down and how we'd get them to 'top off' the climb safely.