The Apprenticeship Blogs – Week 5 
On Monday we continued our zip wire training, which involved us practising both the setup and running of the session in the morning. We did this by taking up the roles of the user, top instructor and bottom instructor. This was helpful as it allowed us to familiarise ourselves with the running of the activity and learning how to quickly identify any potential safety issues when tying people in and lowering them down at the bottom of the zip wire. In the afternoon we then had a small group in to practice delivering a session to, which we all found very beneficial because it gave us a more realistic experience of how we will be running zip wire session. 
Tuesday, we had our first kayaking session which helped us get to grips with being in a kayak and learning the basic paddle strokes as well as wearing spray decks after a little bit. We practised manoeuvring our kayaks in set lines as well as having a go at different challenges and games. In the afternoon we ran our second zip wire session with a group of young people while being shadowed by Tony. This helped us with not only the obvious zip wire training but also allowed us to apply our group management and what we've learnt in our soft skill training and put it into use realistically which meant we got honest and good feedback which helped us adapt it and perfect it all.   
We spent Wednesday doing some site work and helped out with the construction of an activity located in the adventure quarry that had been taken down due to it not being safe and getting old. We dug out a level surface and then filled it with gravel to make it nice and even and separate from the rest of the soil. We then measured and sawed the planks to get them to the right length before nailing them down together and getting the different segments ready.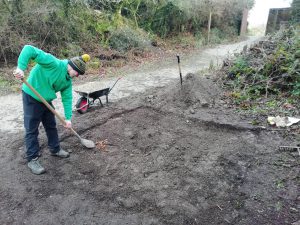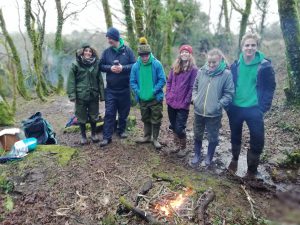 Thursday was focused around the bush craft activity. This started with us having a quick introduction to the activity in the morning, covering the different disciplines included within it such as fire craft and shelter building as well as the concept of forest schooling. We followed this up in the afternoon by putting some of these ideas into practice, building shelters and fires down by the canoe quarry end of the site. From this we learnt how to safely manage the activity and deliver the technical skills of bush craft and shelter building. 
Finally, on Friday we spent the day climbing working some more on our climbing training, perfecting our belaying and working some more on our techniques and learning how to climb more efficiently and without making ourselves more tired than we have too. When we first got there we spent a while warming up and learning about why and how to warm up and cool down to make sure we prevent any injuries etc.  After lunch we played a few games and challenged each other before moving over to the bouldering section.