The Apprenticeship Blogs – Week 4 
The fourth week of our apprenticeship here at BF Adventure started with us doing what we would normally do on a Wednesday, due to the weather forecast for the week. We did a little bit of coursework and then moved onto learning how to check the helmets and harnesses, seeing how many we had, how they were all looking as well as how to identify the harnesses / helmets from one another. 
Tuesday was spent doing some more paddle sport training, which we did in open top canoes in one of our quarries. It was quite a wet and windy day but that did not stop us having a great time, and learning several new paddling techniques. This was done in preparation for a trip we had planned for the following day. A paddle up the Fal river from Looe beach to the king harry ferry, before coming back down. We finished the day off planning this trip using a mind map. 
On Wednesday we went offsite for a paddle trip. We got in to BF Adventure for normal time but after checking the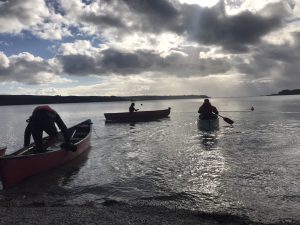 forecast one last time we took the minibus and trailer down to the canoe quarry. We loaded up four canoes, two paddles each, some poles and a tarpaulin, so that we could try and create a DIY sail.
The weather turned out to be super sunny and nice and perfect for canoeing. We launched at Looe Beach in Truro and paddled down to Coombe, right near the King Harry Ferry. We stopped to have lunch and a little break at a sheltered, rocky area on the bank of the river Fal. We then launched from there and started to head back.
We did a little detour and paddled to the other side of the river where we found a small beachy area, we rafted three of our canoes together and then laid the fourth across them to make a sail boat. We made our sail and paddled back to Looe beach via Pill Creek, where we used our sail to catch the wind back to where Paul was meeting us with the minibus and trailer.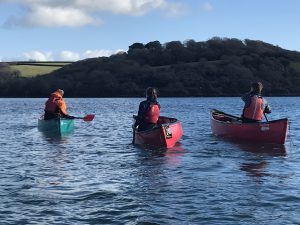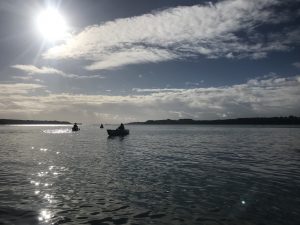 Thursday began with us doing our First Aid At Work course, during which we learnt the basics of how to safely approach and perform checks on someone who has collapsed. This was really helpful as it means that we can now provide help in an emergency situation. Unfortunately, this was cut a little short due to heavy snowfall, prompting an evacuation of the site.   
We started Friday by practicing the setup of several climbs in the adventure quarry, but as it was quite chilly eventually moved into our new activity barn to improve our climbing technique, and learnt some new techniques for group management.