Monday we helped with some groups of young people which helped us gain some insight into the work that goes on at Bf and how our work might look after we have completed the training portion of our apprenticeship. This was also useful because it allowed us to put to use the skills we had learned in our soft skill training such as group management and how to keep a group entertained. 
Tuesday, we started our paddle sport training in canoes. We spent the morning learning about different strokes and a few different paddling styles. We went around the edge of the canoe quarry a few times so that we could put them into work and find out what we found most comfortable. In the afternoon we went back in to the canoes and played a few games which used the techniques we had learned in the morning as well as a few games which we'd be able to use in the future with groups. Eventually we got in the water and had a little swim around before getting back in and warming up.  
The following day involved helping with site work, which was mostly spent helping to clear some large bushes down at the canoe quarry to ensure easy access to the storage containers used for the helmets and paddles. This continued a little into the afternoon before we moved onto the computers to complete some of our online learning and helping with the pack down of the site.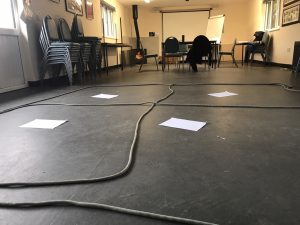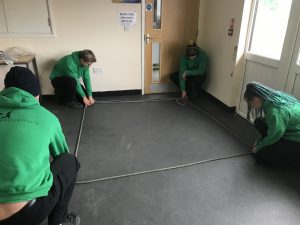 Thursday began with us learning more about group delivery techniques and how to review how well a session went. In the afternoon we then moved onto doing some more practice setting up and delivering a zipwire session. This was helpful as it allowed us to have more experience with working on the zipwire and how we could go about delivering a session as well as keeping clients who are waiting entertained.  
On Friday we went offsite to Trewavas which is just outside Porthleven on the coast to do some outdoor climbing. We got there about 10:30 and rigged up the first climb. After that we started climbing and fine tuning our techniques and belaying skills. We stopped for lunch but then moved onto another climb and worked on different climbing moves. An example of this is bridging, which is where you put your feet out onto two opposing holds, e.g. chimney, which would then transfer all your body weight onto them and take it off your hands so you could shake them out and relax them a little. It's a balancing move and is most often used in lead climbing.  
Harrison Clark, Jessica Campbell, Chyden Barns