BF Adventure celebrated the opening of their new adventure barn on 21st August. There has been a desperate need for this facility over the years but funds were not available. The Adventure Barn is a vital asset to the charity and can now offer challenging, confidence building activities, under cover, to more vulnerable young people, teaching them to build trust and believe in themselves.
The Adventure Barn will also be used to generate additional funds through commercial activities, and will be available to rent by local groups and community.
On 21st August the Adventure Barn was officially opened by the funders, supporters of the project and members of the local community. Cream teas were offered and the opportunity to try out the new indoor climbing wall was taken up by some familiar faces including the Deputy Mayor of Falmouth and Tony Hogg, former Cornwall and Devon Police Commissioner.
Adrian Richards CEO says: BF Adventure has been supporting young people with disabilities, that are victims of abuse, and with high anxiety and depression for nearly 30 years. The difference the charity has made to young people's lives in some cases has literally been life or death. The addition of the Adventure Barn has always been a long-held aspiration for the charity, but has never been affordable. Significant funders and blind faith from dedicated supporters, going to the ends of the earth, made it happen. Thank you.
The Adventure Barn project started in 2017, local supporters went out to charities and funders to seek finance to build the new facility. An incredible response came back and two thirds of the funding was found for the project. Other local businesses, funders and supporters were approached, plans were drawn up and permission was granted.
Despite the terrible winter the Adventure Barn went up, and in May 2018 was open for use. This has been a giant step forward for the charity, the only previous indoor facility was a dilapidated marquee.
Now that the building has been officially opened and is in use, it is time for the next phase of the project. Phase 2 includes increasing the climbing wall, more accessible equipment, and high aspects including high rope obstacles. If you are interested in getting involved in supporting this next phase please get in touch with enquiries@bfadventure.org or for more information see our website bfadventure.org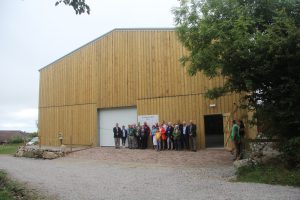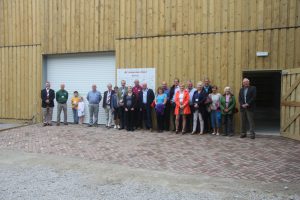 As per our other recent projects the Adventure Barn has been achieved thanks to a huge combined effort, significant funders, discounts, donations, community support and as ever Volunteers, here are some that have made this possible:
Significant Supporters:
Adrian Orchard, Sarah Corbridge
Significant Funders:
Gosling foundation
Merchant Taylors
Wooden spoon- Children's Charity of Rugby – the climbing wall
Classic cottages – Simon Tregoning
Tanner Trust – Lucy Nottingham
Gwellheans Ltd
Edward Barlow
Beatrice Lang Trust
Birmingham Bodenham Trust
Groundworks and planning:
Martin Nicolls – Carn Design
Laurence Osbourne
IESIS – Alan Werrett
EDS – Engineering & Development – Jan Clark
ASI Consultancy
Cornwall building Control
JDS properties – Jonathan rogers
Phil Ireland
Builders Merchants:
RGB – Richard Jayne
Travis Perkins
Devoran metals
Aggregate Industries – Andy Wilson
Edmundson Electrical
Andy Honey
Local Suppliers & Support
SW Garage Doors – Ian Bugge
Aussie Marquees
Colas Ltd
Steve Jenkin
Euro Tool Hire
Nathan Frew
Gaff Sails
Helston Inner Wheel
Andew Harvey
Jason Pearce – Cornwall Building Control
3MS Construction
Hangfast
VITAL role of volunteers:
Tony Hogg
Trustee Bob Padbury
Alex Lamb
Sly Silvester and Squadron 1700 RNAS