This year we celebrate 30 years of supporting young people at BF Adventure.
To kick start our anniversary we are giving away 50 free places for an adventurous Induction Day to a local secondary school worth £1750!
The programme on offer is our September "Induction Day" aimed at young people forming new friendship groups at the start of the school year, to help ease them into the swing of things.  Forming new friendship groups can be a daunting prospect, especially to year 7's.
Our induction is a fun day of adventure, mixed in with a little friendly competition to allow people to mix, have shared experiences, and form new relationships.  From running these adventure days in the past the feedback has always been positive, schools have found that it helps kick start the new year at a new school, while building lasting memories.
This adventure day is usually available at £35 pp.  This offer if for 50 people to attend for free, and comes with free use of our new Adventure Barn and Community Kitchen. In total this comes to £1750 worth of discount!
To enter, you need to like our Facebook post and share it with your friends and family. You will also need your school to message BF Adventure directly.  The winner will be drawn at random on 28th March 2019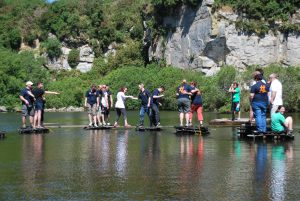 Keep an eye on Facebook for more celebrations and freebies throughout the year!
Terms and conditions
   

A maximum value of £1750 will be deducted from a booking
Only messages sent to BF Adventure via Facebook messenger will be entered into the draw
The winner will be drawn at random on 28th March 2019
Booking must be made within the month of September 2019
The Maximum value of the give away will be £1750, which is the value for 50 people to have a day of activities. Numbers over this will be charged at £35pp.
Numbers will be a maximum of  150 participants
The adventure day on offer is our Induction Day which runs from 1000 to 1530
The Induction Day will have a combination of a maximum of 3 of the following activities: Adventure Quarry, Rafted Canoes, Catapult Building, Climbing, Low Ropes, Abseiling and Archery.
The winning school must pay a £100 deposit within 14 days of winning.  This will be refunded or deducted from the final balance after the event.  Should the school not attend the event the deposit will not be refunded. 

 

The maximum value of the give away will be £1750 which is the value for 50 people, numbers over this will be charged at £35 pp

 and will not exceed 150.

Any payment is subject to our standard terms and conditions
School must provide their own transport to and from BF Adventure (TR10 9BX)
School must provide staff at a ratio of 1 staff : 16 young people
School must bring their own packed lunch
The use of the adventure barn and community is included in the discount with the booking

  

BF Adventure would like to share this event as part of its 30 year celebrations.  We will be taking photos and sharing on social media, please advise us details groups or individuals who cannot have their photos shared in this way.  BF adventure will require a photo consent to be acknowledged for each young person on the medical and registration form.
All other booking terms and conditions apply